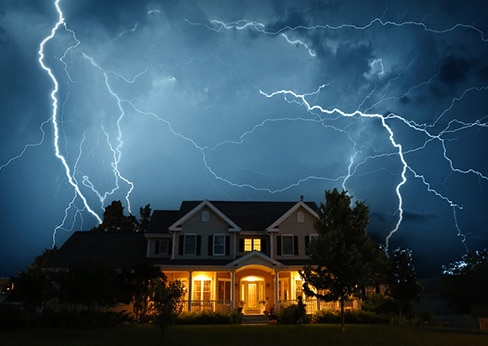 Life Without Home Electric Power
You can't really see it, you hardly ever think about it, and you only ever miss it when it's gone. What is it? Your home's electric power. It's what keeps the lights on when you're up late finishing a project. It's what enables your air conditioning to keep you fresh during the blistering hot summer months. It's what ensures the satellite feed for the big game doesn't drop during the final moments of the watch party.
Whatever it's used for, your home's electricity is what keeps you and your family happy and comfortable. Chances are that you take your home's power for granted. After all, it's always there for you when you wake up, when you come home from work, and even while you sleep. Electricity helps you cook, keeps you entertained, and also provides you with hot water when you shower. You use it and enjoy it every single day, whether you know it or not. It's essential to appreciate your home electric power because life is very different without it.
Why Choose Rack
Teamwork

We're the electrical and generator industry leader for a reason. At Rack, we encourage each of our team members to work together to solve every single challenge we face.

Quality

We won't just meet your expectations; we'll exceed them. We believe in quality over quantity. We will prove ourselves to you through the success and the quality of your project.

Turnkey

We offer complete turnkey systems. All of our installations are ready to go after we complete our work. We never walk away until the job is 100% finished and you're 100% satisfied.
Our South Florida Generator Services
Book Online
Book Online
Imagine Your Power Goes Out
Picture a scenario where you and your family are relaxing on the couch together, watching your favorite show one summery evening. There's a massive storm outside, but you're relaxed and calm. South Florida is known for its summer storms, so this one shouldn't be any different. Suddenly, the home electric power shuts off. You sit and wait for a few moments, expecting the lights to turn back on; however, nothing occurs.
As it turns out, there's been a massive blackout due to a downed tree, and no one in your neighborhood has power. Due to the nature of the storm and the repairs, the utility company expects electricity to be restored in two days. As South Floridians, we know that it's invariably hot and muggy. This, combined with no air conditioning, can be a recipe for trouble for many families.
For those two days, you'll be unable to take a hot shower, be unable to cook unless you have a grill at the ready, be without Internet access, and so much more. While it's bad enough to be without the modern conveniences, many families rely on their home's electrical system for their health. There are a wide variety of medical devices that need constant power from an outlet and medications that require refrigeration.
Also, adults may be out of work and kids might be out of school, forced to sit around a humid house, waiting and hoping that the power returns sooner rather than later. Completely cut off from the world, you'll have to wait for a few days for your home electric system to power back on before you can return to regular life again.
Don't Be In The Dark
Living in South Florida means there's a strong chance that you'll experience numerous power outages thanks to hurricane season. That doesn't mean you and your family have to sit by candlelight when the storm hits. With a standby generator, you'll never have to worry about being left in the dark ever again. For over 20 years, Rack Electric's team of state-certified electricians have worked to provide the best residential generator installation services available.
With a residential standby generator, you'll be able to enjoy all the benefits of a powered home, even when your neighbors are still sitting in the dark. When your main utility power shuts off, the standby switches on, guaranteeing you a constant source of power during an outage.
When your home electric power goes out, don't be left sitting in the dark wondering what just happened. Call 561-666-8960 today to find out how Rack Electric can help keep your home electrical system running.
Book Online
Book Online