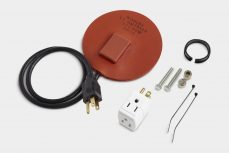 Kohler® Fuel Regulator Heater Kit
240V, 20kW | 20RESC(L)/RESD
Just like in your car, the fuel regulator regulates the flow of engine fuel for consistent pressure.
The kit ensures that the engine in your Kohler® generator runs smoothly, even in sub-zero weather.
Our Generator Services
Book Online
Book Online
Description
Reliable Kohler® generator engine starts in sub-zero temps.
Features
The kit consists of a single round heating pad with a snap-action thermostat and a power cord.
Pad mounts directly on fuel regulator.
Recommended for reliable engine starting in temperatures from -18 degrees to -29 degrees Celcius (0 degrees to -20 degrees Fahrenheit).
120V or 240V available.
Additional Information
Weight: 1.005 lbs
Dimensions: 8 × 5 × 3.5 in