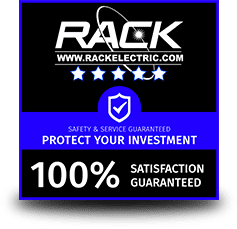 Keep your generator running in perfect condition with a Rack Electric Service Agreement.
Rack Electric will maintain a complete service history and service procedure data, available at your request.
After each inspection, Rack Electric will provide a written report detailing the conditions found and advising further service required if necessary.
Inspections to be performed during normal business hours 7:00 AM to 4:00 PM. After-hour inspections can be performed at an additional charge.
It is understood that each inspection includes the items shown on the attached Points of Inspection list. It does not include parts, labor for installation, lubricants, fluids, fuels, and environmental disposal fees unless otherwise stated.
For services provided other than inspection visits, the following labor rates will apply including travel time: $95.00 1ST half hr (Non – Agreement $125.00); $95.00 every hour after Overtime rate: $142.50/hr. Holidays rate charged at double time: $190.00/hr. Where Flat Rate Service Charges apply, the parts discount identified.
CLIENT is responsible for monitoring the generator's exercise cycle time function and shall notify CONTRACTOR if any changes are made.
Refund Policy: Refunds will be subject to a 50% cancellation
Why Choose Rack
Teamwork

We're the electrical and generator industry leader for a reason. At Rack, we encourage each of our team members to work together to solve every single challenge we face.

Quality

We won't just meet your expectations; we'll exceed them. We believe in quality over quantity. We will prove ourselves to you through the success and the quality of your project.

Turnkey

We offer complete turnkey systems. All of our installations are ready to go after we complete our work. We never walk away until the job is 100% finished and you're 100% satisfied.
Our Generator Services
Book Online
Book Online