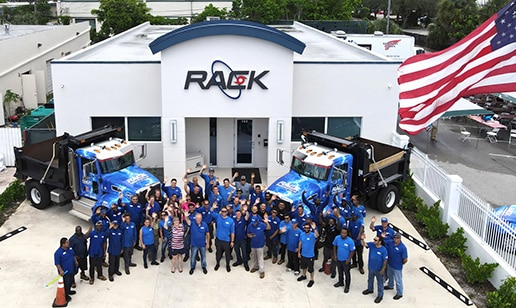 Generators Fort Lauderdale, FL
If you're looking for an automatic standby generator in Fort Lauderdale, Rack Electric can help keep you, your family, home, and business safe from extended power loss in Broward County. Our efficient, cost-effective, and reliable Fort Lauderdale generator service includes installation, maintenance and repair. We're also here to assist with all of your EV charging, gas, electricity, and solar panel needs. Get in touch with one of our Fort Lauderdale generator experts today!
Why Choose Rack
Teamwork

We're the electrical and generator industry leader for a reason. At Rack, we encourage each of our team members to work together to solve every single challenge we face.

Quality

We won't just meet your expectations; we'll exceed them. We believe in quality over quantity. We will prove ourselves to you through the success and the quality of your project.

Turnkey

We offer complete turnkey systems. All of our installations are ready to go after we complete our work. We never walk away until the job is 100% finished and you're 100% satisfied.
Our South Florida Generator Services
Book Online
Book Online
Emergency Generator Services in Fort Lauderdale
Available 24/7, 365 Days a Year
Fort Lauderdale residents deserve peace of mind during hurricane season. Losing power in your home or business due to a hurricane or tropical storm requires a proactive plan. A backup generator in Fort Lauderdale can ensure your safety and get the dependable power you need. If your generator isn't functioning properly, get help today. We're available 24/7, 365 days a year so we can restore your power in the middle of the night, on a holiday, or whenever you need us to so you can rest easy during hurricane season.
Fort Lauderdale Generator Installation
Contact our Fort Lauderdale generator service experts if you need a new generator or need one installed. We're here to help you find the best Fort Lauderdale generator that aligns with your preferences, budget, and size of your home or business. We'll get it installed quickly to ensue you have the protection you need during hurricane season and beyond.
Fort Lauderdale Generator Repair
Call the team at Rack Electric today anytime your generator in Fort Lauderdale isn't functioning or running efficiently. We'll get over as quickly as possible to repair your generator, fix the problem, and get everything fixed as quickly as possible. Whatever the issue, Rack Electric's Fort Lauderdale generator experts can help.
Fort Lauderdale Generator Maintenance
It's essential to properly maintain your backup generator in Fort Lauderdale to stay safe, no matter what the weather is doing outside. Rack Electric offers comprehensive and worry-free generator maintenance in Fort Lauderdale so you always know your generator is ready for hurricane season.
What are the Benefits of a Standby Generator?
There are many benefits to having a standby generator in Fort Lauderdale, including:
Climate control is maintained even when the power goes out. When you have a complete home generator, your HVAC system will remain operational.
Maintain the safety and health of your food. With generator power, your refrigerator and any standalone freezers won't turn off, and your food won't spoil.
Maintain your clean water supply even if a disaster strikes. If you're on a well pump, it will continue to operate.
Maintain communication channels for as long as possible. Keep your phones and computers charged so you can communicate with the rest of the world.
How Does a Standby Generator Work?
Standby generators in Fort Lauderdale help provide a steady, reliable stream of power to your home or business in the event of a power outage. You can live comfortably and keep running your business with the right generator. Meanwhile, other homes relying on utility companies are shut down anytime transformers, substations, and miles of power lines are disturbed.
The time frame for a power outage without a standby generator in Fort Lauderdale is anywhere from a few seconds to days. A generator gives you more control and comfort during a blackout and keeps your home or business up and running. A standby generator in Fort Lauderdale can provide roughly 3,000 hours of use or around thirty (30) plus years.
Fort Lauderdale Gas Services
When your generator relies on natural gas or propane, you need a dependable energy supply to keep it going. Rack Electric can assist you get the fuel you need and can properly install everything underneath. We'll also keep your existing tanks in good condition and monitor their supply so you know how much fuel you have left.
Fort Lauderdale Electrical Services
For both residential and commercial clients, we provide a wide range of electrical services in Fort Lauderdale. Our qualified Fort Lauderdale electricians are here to assist you and are standing by! Call us whenever you require the following:
Electrical repairs & installations
Safety inspections
Electrical panels & circuit breakers
Wiring & rewiring
Lighting
Security systems
AV systems
CO2 & smoke detectors
And more!
Book Online
Book Online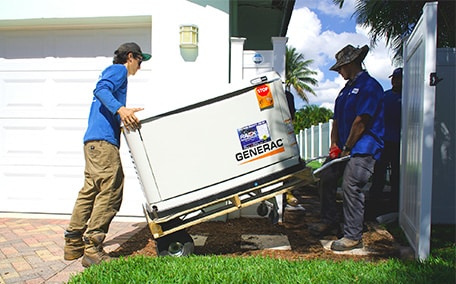 Why Call Us for Your Generator Services in Fort Lauderdale
Rack Electric is here to take care of all your generator needs in Fort Lauderdale, FL. We've established a reputation in the community for:
Offer upfront pricing, financing options & guarantees
Are family-owned and operated
Use industry-leading equipment & technology
Are a premier Generac dealer & a state-certified contractor
Are available 24/7 for emergencies
Offer turn-key, ready-to-go services
Have your back, no matter what
Fort Lauderdale Solar Services
Are you finally ready to switch to solar energy? If you need help or are prepared to install solar panels in Fort Lauderdale, Rack Electric is here to help. We will visit your home or place of business to assess your needs prior to installing your solar panels. For you to get the most out of your system, our team of professionals can also help spot solar panel issues and determine next steps.
EV Charging Stations in Fort Lauderdale
Do you need one or more Fort Lauderdale EV charging stations for your house or place of business? Installation of Level 2 and Level 3 EV charging stations should be handled by Rack Electric's skilled Fort Lauderdale electricians. After speaking with you about your requirements, our experts will install your system and test it out before we give the go-ahead.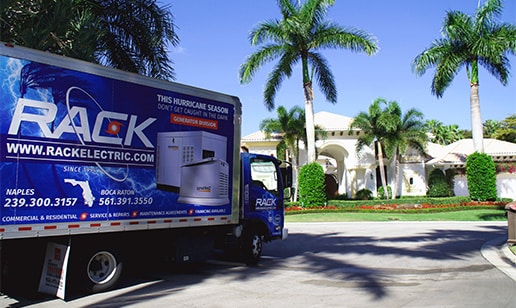 Our Fort Lauderdale Generator Experts Are Here to Help
Automatic residential standby generators in Fort Lauderdale allow residents to be prepared for hurricane season and beyond. Our line of generator services in Fort Lauderdale help keep your family, home, and home-based business protected from periods of extended power loss. Allow our team of state-certified and licensed electricians to recommend the most efficient and cost-effective generator and then maintain or repair it for you.
Book Online
Book Online