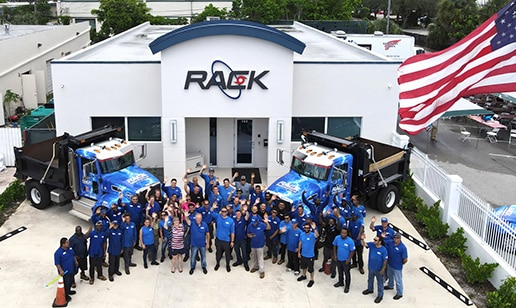 Hurricane Preparedness
For a large portion of the year, South Floridians are treated to incredible weather. Clear blue skies, accompanied by the ocean breeze, make everyday ideal for being outside. From Boca Raton to Naples to Miami, South Floridians everywhere are treated every single day, while the rest of the country is forced to hide away from heavy snowfall or other inclement weather. However, during the second half of the year, every citizen of South Florida heads inside as thunderstorms, tropical storms, and hurricanes bombard the area.
Why Choose Rack
Teamwork

We're the electrical and generator industry leader for a reason. At Rack, we encourage each of our team members to work together to solve every single challenge we face.

Quality

We won't just meet your expectations; we'll exceed them. We believe in quality over quantity. We will prove ourselves to you through the success and the quality of your project.

Turnkey

We offer complete turnkey systems. All of our installations are ready to go after we complete our work. We never walk away until the job is 100% finished and you're 100% satisfied.
Our South Florida Generator Services
Book Online
Book Online
How to Prepare for Hurricane Season
Since hurricanes were first tracked in the late 1800s, Florida has been hit by more named storms than any other state in the country. In fact, Florida has sustained more than double the number of hurricanes than Texas, the state that's been affected by the second most hurricanes. Even though hurricanes and tropical storms are a serious reality that has caused severe damage in the past, many people don't take them seriously or aren't equipped to take them seriously.
As the number one electrician and generator installation company in Boca Raton and South Florida for over 25 years, we've come to learn just how important it is to be ready before hurricane season rolls around. It's extremely important your family is aware of the dangers these storms bring, and how to properly prepare for them before they arrive.
1) Know When Hurricane Season Starts
Since 1994, Rack Electric has experienced an array of hurricane seasons. South Florida families should know that there are no set dates when hurricanes begin and end, but rather calculations that lead to when hurricanes are expected to start and stop in any given year. Hurricane season can also last a varying amount of time, with the season running anywhere from four to seven months.
Be even more prepared and learn about the stages of a hurricane here!
2) Have A Plan
Even if there are clear blue skies and you're enjoying the sun as a team of Rack Electric electricians are replacing some wiring in your home, you should still prepare a serious plan ahead of hurricane season. Family members and friends may not be with one another when disaster strikes, so knowing what to do can keep you and everyone you love safe and secure. Establish other safe spots aside from your home where people can retreat to meet up should anyone become separated. With a plan in place, you, your family, and your friends can all rest assured knowing everyone is safe.
3) Secure Your Home
As news begins to break about a developing storm system, you should take the liberty of preparing your home ahead of schedule. On the outside of your home, you should store all exterior furniture, decorations, basketball hoops, or anything else that can get loose and cause damage. Trees and bushes should be trimmed and maintained to stop branches from breaking off and causing damage. You should also close off window shutters to keep windows from being shattered by strong winds and debris.
Inside, you should make sure that everyone is kept away from windows at all times until the storm has completely passed. Gas and charcoal grills should be kept off while inside, as they can not only cause severe fires but also produce heavy amounts of suffocating carbon monoxide.
Long before a storm arrives, you should have a stockpile of supplies available and at the ready. These emergency supplies tend to fly off the shelves when a hurricane slowly inches closer and closer, so it's better to buy everything in advance and store it all. Some vital supplies you should keep on hand include:
Bottled Water

First Aid Kits

Non-Perishable Foods (canned meats and vegetables, jerky, granola, nuts, etc)

Non-Prescription Drugs (pain relievers, fever reducers, antacids)

Toilet Paper

Flashlights

Radios

Batteries

Cash

Entertainment (Books, Board Games, Etc.)

Thermal Blankets

Emergency Ponchos
4) Have Backup Power Ready
When hurricanes come through South Florida, their strong winds ravage trees and powerlines alike. This tends to cause power outages across the entire area, leaving thousands of people in the dark. They're unable to watch television, cook on their stove, or even see without a flashlight. As the A/C unit shuts off, the air becomes stagnant and it gets incredibly hot and uncomfortable. This can last for a few days to a few weeks, depending on how much damage a storm caused.
Nobody wants to live like this, which makes our backup generator installation services essential for hurricane season. While you're able to use a flashlight to see in the dark, nothing beats having all of your lights on and the A/C blowing cool air. With a Rack Electric installed standby generator, you're able to power your entire home for roughly 3,000 hours of use, for upwards of 20 years if maintained properly. Backup generators kick in immediately after a power outage is detected. Once the power lines are restored, your utility power kicks in and the backup generator is turned off. Your family will continue to enjoy living their life throughout the duration of a hurricane as if nothing ever happened.
Rack Has Your Back During Hurricane Season & Always
We here at Rack Electric love our South Florida community and want nothing more than for everyone to live comfortably, even as a hurricane barrels through outside. If you're interested in our standby generator installation services, we'd be more than happy to dispatch a team of electricians to have it set up and ready as quickly as possible. Our entire team is dedicated to providing you the best electrical services year-round, whether that means changing out old wiring or installing a backup generator ahead of hurricane season.
Book Online
Book Online