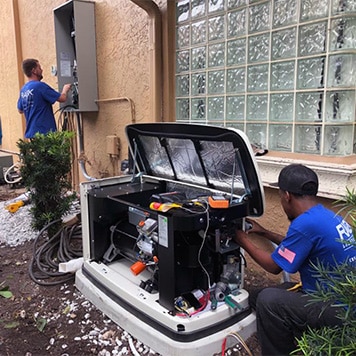 South Florida HOA Generator Installation
Rack Electric is happy to offer their generator installation services to homeowner associations (HOAs) across South Florida. Homeowners associations (HOAs) are the predominant property management service found in South Florida, with over 3,000 HOAs existing across Palm Beach, Broward, and Miami-Dade counties. In fact, there are over 200,000 homes in Southwest Florida managed by HOAs alone. HOAs were designed to collectively manage entire neighborhoods and provide them with a range of amenities at a fraction of the cost. As a result of rapid expansion and high competition, South Florida homeowners' associations are constantly growing and looking for ways to improve. If you're a South Florida HOA looking to provide additional services for your homeowners, then consider the residential and commercial standby generator installation services provided by Rack Electric.
Why Choose Rack
Teamwork

We're the electrical and generator industry leader for a reason. At Rack, we encourage each of our team members to work together to solve every single challenge we face.

Quality

We won't just meet your expectations; we'll exceed them. We believe in quality over quantity. We will prove ourselves to you through the success and the quality of your project.

Turnkey

We offer complete turnkey systems. All of our installations are ready to go after we complete our work. We never walk away until the job is 100% finished and you're 100% satisfied.
Our Generator Services
Book Online
Book Online
South Florida HOA Generator Installation
Every year, South Florida faces the impending dangers of hurricane season. These powerful storms are known for devastating effects such as flooding, storm surge, high winds, tornadoes, and even the destruction of property. Most storms during hurricane season have winds powerful enough to decimate trees and powerlines alike. Large tree trunks blocking the road makes it impossible for cars to drive through, trapping people in their homes completely. Downed power lines can leave homes completely in the dark for hours, days, or even weeks and present a danger to those who require medical devices. Without the necessary power, your homeowners are left to sit in darkness until help eventually comes.
You want the best for everyone involved in your community, which is the very reason why you're a member of a South Florida HOA. To ensure that all of your residents and your business stays secure and comfortable during even the worst of storms, consider having Rack Electric install standby backup generators in every resident's home and your community's clubhouse. These standby generators are designed to provide your homeowners with immediate power as soon as the original utility power goes out. Our generators can last up to 3,000 hours of constant and continued power to each home, powering each and every appliance and/or electronic device. With Rack Electric, you guarantee the safety and security of your residents.
Considered The Top Generator Installer For Homeowner Associations Across South Florida
As one of the leading HOA standby generator installers in South Florida, we guarantee your satisfaction. We don't offer cut-rate prices or oversell on our generator installation services — the Rack Electric way is to ensure that the job will be done the right way the first time. Other companies may offer their service at a large discount, but they perform lackluster jobs. You'll most likely have to call them over and over again to repair your standby generators. The last thing you want is to invest in your homeowners and let them down when they need their generator the most. Let Rack Electric get the job done right the first time, and you'll never have to worry about it ever again.
HOAs were designed to look out for their homeowners and provide them with the best amenities. This year, give them the gift of power with Rack Electric. Our HOA standby generator installation teams will handle the process of procuring the proper permits, as well as installing each and every generator while being as minimally invasive as possible. Our state-licensed and certified teams of electricians will make sure to leave your neighborhood exactly how it was when they first arrived.
Book Online
Book Online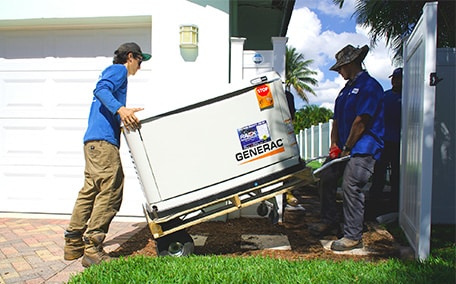 Why Choose Us for Your South Florida Generator Services
At Rack Electric, we are proud to be your go-to South Florida generator service experts. People love us because we:
Offer upfront pricing, financing options & guarantees
Are family-owned and operated
Use industry-leading equipment & technology
Are a premier Generac dealer & a state-certified contractor
Are available 24/7 for emergencies
Offer turn-key, ready-to-go services
Have your back, no matter what!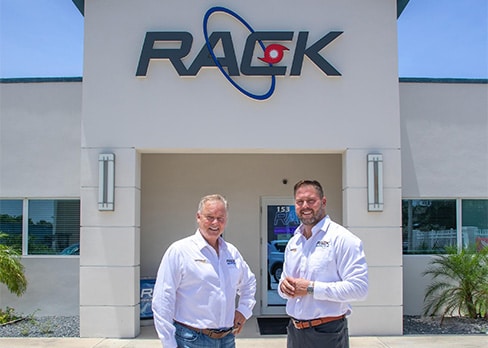 Rack's Got Your Back
If you're interested in Rack Electric's HOA generator installation services, or would like to learn more, call us today at 1-561-666-8960 or use our convenient online form and a Rack Electric team member will get back to you as soon as they can!
Book Online
Book Online