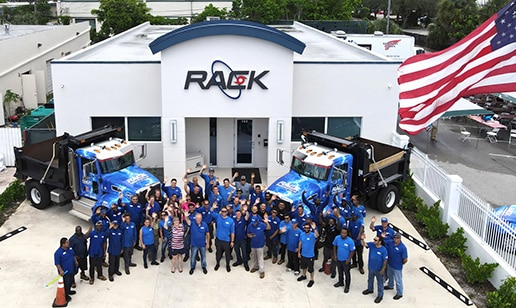 Generators Brevard County, FL
Looking for Brevard County generator services? Contact us at Rack Electric right away! We provide a full range of generator services to both residential and commercial customers, including generator installation, maintenance, and repair. In Brevard County, we're also your go-to company for gas services, electrical services, solar services, and even EV charging stations. Contact us now!
Why Choose Rack
Teamwork

We're the electrical and generator industry leader for a reason. At Rack, we encourage each of our team members to work together to solve every single challenge we face.

Quality

We won't just meet your expectations; we'll exceed them. We believe in quality over quantity. We will prove ourselves to you through the success and the quality of your project.

Turnkey

We offer complete turnkey systems. All of our installations are ready to go after we complete our work. We never walk away until the job is 100% finished and you're 100% satisfied.
Our Brevard County Generator Services
Book Online
Book Online
Brevard County Cities We Serve
Rack Electric is proud to provide generator services to all of Brevard County, including but not limited to:
Cocoa Beach
Grant-Valkaria
Micco
Mims
Melbourne
Palm Bay
Port Canaveral
Titusville
Brevard County Generator Installation
Rack Electric is the company to call for generator installation in Brevard County, FL. We will help find the best generator for your needs, preferences, and budget. We'll order it and install it as soon as possible, always in accordance with the manufacturer's specifications. Regardless of the season or weather, our Brevard County generator experts will ensure that you have the necessary protection and power to stay safe at home.
Brevard County Generator Repair
When you need generator repair in Brevard County, FL, look no further than Rack Electric. Our experts have the skill, knowledge, and experience to repair whatever is wrong with your generator. We've performed generator repair for hundreds of customers over the years, and we're standing by to get yours up and running again. Contact us today for prompt and dependable generator repair in Brevard County, FL!
Brevard County Generator Maintenance
Rack Electric offers generator maintenance in Brevard County, FL to help keep your generator running efficiently all year long. Our generator experts will test your generator, inspect every component, and ensure that it is ready to use when and if you require it. If your Palm Beach generator isn't working properly, we'll notify you and make the necessary repairs as soon as possible, so you don't have to worry about it. More information on our generator maintenance plans is available here!
Brevard County Generator Monitoring
We can install your generator in Brevard County, FL so you can monitor it even when you're not there. You'll know if it needs to be turned on, how long it runs for, and even run some diagnostics on it. You can use our Brevard County generator monitoring technology to keep track of how frequently your power goes out, the status of your generator, and other information.
Brevard County Emergency Generator Services
Call Rack Electric if there's a storm on the way or if you're without power in Brevard County because your generator isn't working. Our generator experts are available 24 hours a day, 7 days a week. We'll respond quickly and implement whatever solution you require so that your power is restored and you can feel safe and comfortable at home again
Brevard County Gas Services
Rack Electric can help you if you use liquid propane or natural gas to power your generator in Brevard County. We can provide you with the fuel you require by installing underground tanks, ensuring that you always have access to it. We can also maintain existing tanks or install a tank monitoring system so you never have to wonder how much fuel is left in your tank or what condition it's in.
Brevard County Electrical Services
Rack Electric also provides a wide range of electrical services in Brevard County to both residential and commercial customers alike. Our skilled Brevard County electricians are available to help with any of the services below:
Electrical repairs & installations
Safety inspections
Electrical panels & circuit breakers
Wiring & rewiring
Lighting
Security systems
AV systems
CO2 & smoke detectors
And more!
Book Online
Book Online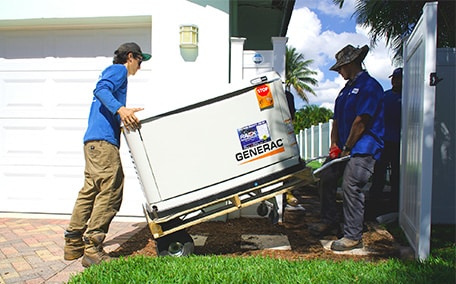 Why Choose Rack
At Rack Electric, we are proud to be your go-to Brevard County generator service experts. People love us because we:
Offer upfront pricing, financing options & guarantees
Are family-owned and operated
Use industry-leading equipment & technology
Are a premier Generac dealer & a state-certified contractor
Are available 24/7 for emergencies
Offer turn-key, ready-to-go services
Have your back, no matter what!
Brevard County Solar Services
When you want to learn more about solar panels in Brevard County or are ready to have some installed, reach out to us at Rack Electric. We'll come to your home or business, assess your solar requirements, and then create a plan for you to review. After that, our Brevard County solar panel installation crew will get to work. We can also troubleshoot any solar panel issues you may be experiencing to help you get the most out of your system.
Brevard County EV Charging
If you'd like to install an EV charging station in Brevard County, trust the team at Rack Electric. We will come to your home or business, assess your electrical system and help you choose the best EV charger for your needs and budget. We'll then get to work on the EV charging installation, testing everything as we go and making sure you know how to use your new charger.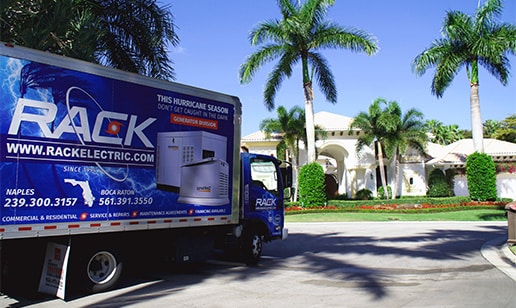 Get Brevard County Generator & Electrical Help
If you need help with your Brevard County generator or anything electrical-related at all, rely on us at Rack Electric. We have generator experts standing by, ready to perform generator installation, repair, maintenance, or whatever you need. Our electricians in Brevard County are also here should you need something fixed or installed. Call us today to get things running the way you need them to!
Book Online
Book Online