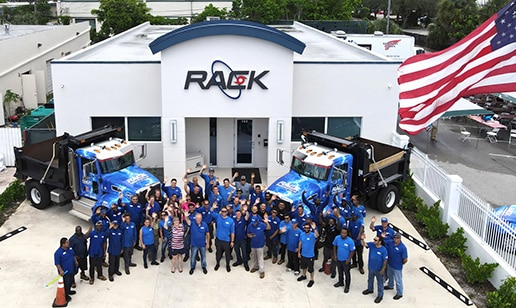 Generators Vero Beach, FL
Do you need a dependable generator in Vero Beach? Rack Electric provides all of the generator services in Indian River County you need, including installation, maintenance, and repair. Our electricians serve both residential and commercial clients with generator services, gas, electrical, solar, and EV charging services. Call us today!
Our South Florida Generator Services
Book Online
Book Online
Vero Beach Generator Installation
Vero Beach generators are a lifeline when your power goes out. If you've never used one or need a new one, call our electricians. We'll figure out what you need, talk through the plan, and get everything approved from your end and ready to install. We also offer reliable, upfront pricing you can trust. Our goal is to exceed your expectations and keep your home safe year-round.
Vero Beach Generator Repair
When your Vero Beach generator is acting up and not working properly, call us right away. Our Rack Electric electricians provide all of the comprehensive Vero Beach generator repair services you need. We'll restore your unit and peace of mind, no matter the weather.
Vero Beach Generator Maintenance
We also provide the ongoing generator maintenance service you need in Vero Beach to keep your unit optimized. We'll get right to work on a comprehensive inspection and make repairs if needed. We'll make sure your generator is working reliably so you're ready when a storm hits.
Vero Beach Generator Monitoring
When you're out of town, you can still know exactly what's going on with your generator. We'll help you monitor your Vero Beach generator from anywhere with our advance monitoring system. Check on your unit's status, usage, and run diagnostics. You're in control, no matter where you are so you can check on your unit's status, usage, and run diagnostics remotely. You'll stay in control of the situation, no matter where you are.
Vero Beach Emergency Generator Services
Hurricane season is hard on your electricity, you can turn it around with the right generator.
but you can also suffer an outage from routine utility work in your area. Regardless of what's going on, you need a generator that works every time. Call us for Vero Beach emergency generator services right away for 24/7 help to get your generator working and power restored.
Vero Beach Gas Services
When your generator runs on natural gas or propane, you need a reliable energy source to keep your generator up and running. Rack Electric helps get the fuel you need and will install everything safely underground. We'll also maintain your existing tanks and monitor their source so you know how much fuel you have left.
Vero Beach Electrical Services
We offer a range of electrical services in Vero Beach, FL for your residential and commercial properties. We offer:
Electrical repairs & installations
Safety inspections
Electrical panels & circuit breakers
Wiring & rewiring
Lighting
Security systems
AV systems
CO2 & smoke detectors
And more!
Book Online
Book Online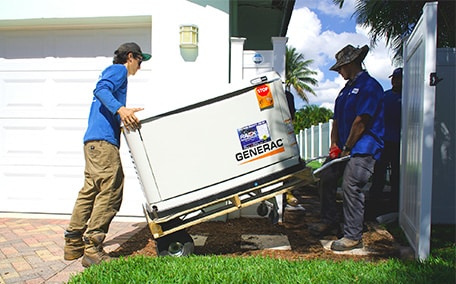 Why Call Us for Your Generator Services in Vero Beach
Rack Electric is here to service all of your generator-related needs in Vero Beach, FL. We've established a reputation in the community for:
Offer upfront pricing, financing options & guarantees
Are family-owned and operated
Use industry-leading equipment & technology
Are a premier Generac dealer & a state-certified contractor
Are available 24/7 for emergencies
Offer turn-key, ready-to-go services
Have your back, no matter what
Vero Beach Solar Services
When you're ready to make the switch to solar, call the electricians at Rack Electric today. We'll talk through the options and get to work installing solar panels in Vero Beach, FL. We'll visit your home or business and assess your solar, install everything and commission your panels. We can also resolve solar panel challenges to maximize your system.
Vero Beach EV Charging Stations
Are you ready to take the leap with a new Vero Beach EV charging station or stations for your workplace or home? Rack Electric are experts at setting up Level 2 and Level 3 EV charging stations. We'll assess your needs, install everything, and make sure it's fully operational before your service appointment ends.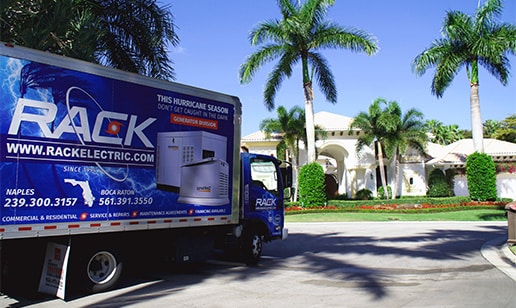 Reliable Help for Vero Beach & Electrical Systems
Rack Electric is here for all of your generator and electrical needs in Vero Beach, FL. Our expert electricians are available 24/7 to help. We provide all of the top-quality solutions you need to ensure your Vero Beach electrical system operates seamlessly. Schedule an appointment today!
Book Online
Book Online