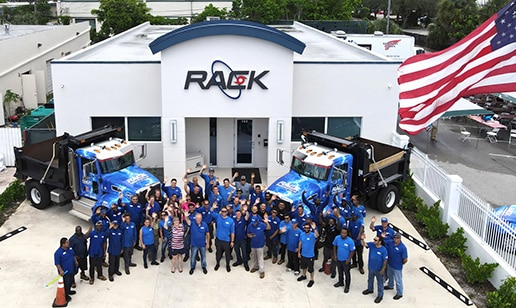 Generators Indian River County, FL
Are you looking for a dependable generator in Indian River County, FL? Rack Electric is here to help. We provide comprehensive generator services throughout the area from installation to maintenance, and repair. Our electricians serve both residential and commercial clients with generator services, gas, electrical, solar, and EV charging services. Call us today!
Our South Florida Generator Services
Book Online
Book Online
Indian River County Cities We Serve
Rack Electric provides a wide range of generator services to all of Indian River County, including but not limited to:
Gifford
Indian River Shores
North Beach
Roseland
Sebastian
South Beach
Wabasso Beach
Indian River County Generator Installation
When you need a new Indian River County generator or have never used one before, you need expert guidance. Our team will talk through your needs and expectations, discuss the best options and solutions for your home, get your approval and offer upfront pricing. We're here to ensure your home remains safe and secure year-round.
Indian River County Generator Repair
Is your Indian River County generator not working or suddenly unreliable? Call the team at Rack Electric. Our Indian River County generator experts are here to quickly diagnose the issue, make any repairs, and restore your peace of mind. We prioritize your satisfaction, no matter how complicated the issue!
Indian River County Generator Maintenance
Keep your generator in peak condition throughout the year with consistent Indian River County generator maintenance service. We'll take a look at your unit, run some thorough tests, inspect all of the components, and keep your generator in prime condition. If we discover any needed repairs, we'll address them promptly.
Indian River County Generator Monitoring
Keep connected and on top of what's going on with your Indian River County generator from anywhere. Our advanced monitoring setup lets you monitor its status, track usage, and run diagnostics remotely. We help you stay in control of your unit, even when you're not at home.
Indian River County Emergency Generator Services
When hurricane season hits or a tropical storm comes through, you need a generator that works every time you need it. Reach out to us right away for prompt Indian River County emergency generator services. We're available 24/7 to get you the power you need, when you need it most.
Indian River County Gas Services
Is your generator running on natural gas or propane? Rack Electric assists by obtaining the fuel you need and install the tanks in the ground so you have the power source you need. Our technicians can also help maintain your existing tanks and monitor them so you're never left wondering how much fuel is left in your tank.
Indian River County Electrical Services
Experience a wide spectrum of electrical services in Indian River County, FL tailored for both residential and commercial properties. Our proficient Indian River County electricians offer:
Electrical repairs & installations
Safety inspections
Electrical panels & circuit breakers
Wiring & rewiring
Lighting
Security systems
AV systems
CO2 & smoke detectors
And more!
Book Online
Book Online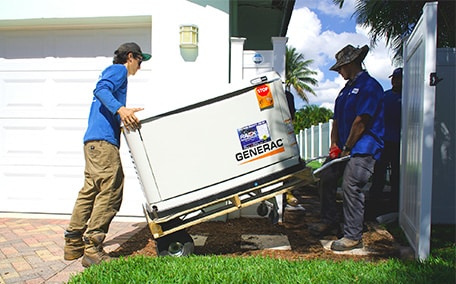 Why Call Us for Your Generator Services in Indian River County
Trust Rack Electric for all of your generator-related needs in Indian River County, FL. Customers come to us for expert service and care because:
Offer upfront pricing, financing options & guarantees
Are family-owned and operated
Use industry-leading equipment & technology
Are a premier Generac dealer & a state-certified contractor
Are available 24/7 for emergencies
Offer turn-key, ready-to-go services
Have your back, no matter what
Indian River County Solar Services
Are you ready to make the switch to solar energy? Call Rack Electric today to learn more or are ready to take the next step and install solar panels in Indian River County, FL. After visiting your home or business and assess your solar needs, we'll install it all and commission your panels. We can also resolve complex solar panel challenges to maximize your system.
Indian River County EV Charging Stations
Are you ready to install an Indian River County EV charging station or stations for your home or business? The electricians at Rack Electric are ready to set up Level 2 and Level 3 EV charging stations. We'll talk over the project with you and install the system, test it, and make sure it's all completely functional and operational before leaving.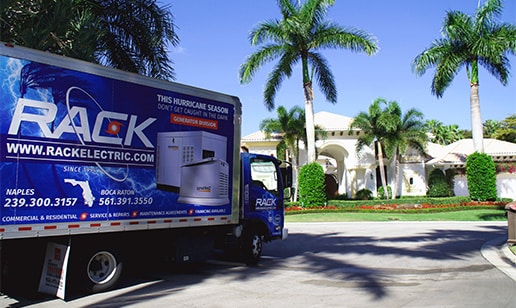 Reliable Help for Indian River County Generators & Electrical Systems
Rack Electric can handle all of your generator and electrical needs in Indian River County, FL. Our experienced staff of generator specialists and electricians is available to assist you. Make an appointment today to discover high-quality solutions that will keep your Indian River County electrical system running smoothly. Call now!
Book Online
Book Online