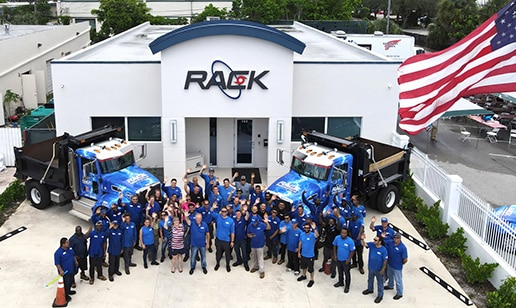 Miami Generator Services
Founded over twenty years ago, Rack Electric provides the citizens of Miami with the best electrical work with our team of experienced, state certified electricians. We proudly deliver affordable service and superior installation of high-quality, turnkey generators.
After experiencing over two decades' worth of hurricane seasons, Rack Electric knows what to expect when the storm comes. Our years of knowledge and expertise will make sure your Miami home is ready for the next tropical storm or hurricane.
The City of Miami, situated along Biscayne Bay, and the Greater Miami Area, includes gorgeous beaches such as Lummus Park Beach, Haulover Beach, the South Pointe Park Pier, the Bill Baggs Cape Florida State Park and its historic lighthouse, and Crandon Park, among others. From the residents of the sleepy beach town of Surfside to the well-heeled city of Bal Harbour, all are familiar with the common power outages that come with living in Miami in hurricane season. Miami homeowners know the importance of having reliable power, which is why Rack Electric uses state-of-the-art generators on the market.
We offer the people of Miami and Miami Beach best-in-class residential generator services to better equip their homes for their emergency electrical needs.
Miami Generators
Residential Electrician Services
The electrical system of your house supports all of the critical functions of your household. From appliances to central air to Wi-Fi®, your home's electrical system is what keeps the entire house alive. Just like the plumbing or the roof, the wiring in your home also grows old with time. This aging can cause your home electronics and appliances to malfunction or fail altogether, and even pose a fire hazard if left without proper maintenance.
Electrical repairs aren't something a layperson should handle. Electrical repairs are best left to trained, certified professionals like those at Rack Electric. We have been serving the City of Miami for over twenty years. We're able to install new electrical systems, make repairs, and perform maintenance on pre-existing equipment and systems like residential generators. Rack Electric will ensure that your electrical systems are running efficiently so you don't have to worry.
Residential Electrical Generators
Hurricane season starts in June and ends in November of every year. This means that living in a metropolitan city such as Miami comes with the experience of year after year of experiencing power outages.
If your home doesn't have an old-fashioned portable generator, then you know first-hand how uncomfortable being without air conditioning and working appliances can be. Do you have a portable gasoline-powered generator or a diesel generator? These generators run for approximately eight hours before refueling. Fuel may be impossible to get after a hurricane strikes. Do you choose between your home or automobile when the time comes?
Standby generators from Rack Electric are an excellent back-up or a replacement for your portable generator. A standby residential generator is able to continually power your whole home for long periods of time. Rack Electric can quickly install a residential generator to prepare your home for hurricane season.
Miami's Go-To For Residential Standby Generator Installation, Service, and Maintenance
All of South Florida is always susceptible to a stream of hurricanes and tropical storm attacks, and Miami is no exception. These massive and severe storms can knock out a portable generator's system, which can cause a building to completely lose power. With a portable generator, you're able to run it for roughly 8 hours before it'll need to be refueled. And during a hurricane, more often than not, it can be extremely difficult to find fuel. Moreover, portable generators are only able to run two or three appliances at a time. Which appliance can you do without during and after the storm?
For more than 2 decades, the professional team at Rack Electric has been providing service to residents of Miami as well as the rest of South Florida. Our expert staff houses the most expert and experienced electricians who proudly tackle any project that we undertake. Our goal is to provide all customers with strong and affordable standby generators to power your property in the darkest of times. We've experienced more than 24 hurricane seasons so believe us when we say that we know a thing or two about being prepared. When it comes to installing a residential standby generator in Miami, we're more than ready to help your home continue running as efficiently as possible. Standby generators are a perfect safety measure for the power at your home cuts out. With a residential standby generator, you're able to constantly power the entire house over extended periods of time and the team at Rack Electric is able to quickly and efficiently install one, ensuring that your Miami property is prepared for hurricane season and beyond.
Why Install Our Miami Standby Generators?
Reliability
Compared to portable ones, emergency standby generators are way more reliable. And besides needing an annual maintenance checkup, you can rely on your standby generator to be ready for when a blackout occurs.
With most portable generators, you'll need to rely on fuel to be able to power it. And because you'll need to keep gasoline on standby, you run the risk of having your gas go bad by letting it sit stagnantly for too long.
But our Miami standby generators don't need gas. And so, you can be at ease as your house will be powered by a reliable source.
Longer Lasting Effects
Many Miami standby generators provide multiple hours worth of power for your property in order for it to be powered in the event that a blackout occurs. With other types of generators, especially portable ones, they can only last for less than half the time than what a residential one can supply.
Less Effort
Compared to portable generators, residential standby are much more convenient in use. Portable generators require you to lug them out and connect it properly in order for you to receive the power you need when a blackout occurs. With a residential standby generator, however, you practically don't need to do anything. Your Miami standby generator is controlled by an automatic switch that turns it on as soon as a power outage occurs. You most likely won't even notice the power go out as the standby generator turns on.
Miami EV Charging
EV CHARGER SERVICES IN MIAMI
Electric vehicles are the way of the future. As more electric cars hit the road, so will charging stations. Electric vehicles can charge from any ordinary electrical outlet, but it can take a while. We here at Rack Electric have expertly and efficiently installed electric vehicle charging systems in Miami to make the process as quick as possible. We are certified to equip homes in Miami with these systems so your vehicle can hit the road as soon as possible.
Electric cars have become more popular as the gasoline prices have continued to rise. While electric charging is less costly to the environment, it has struggled to be as convenient as gas-fueled vehicles. Over time, charging stations in Miami have created a more electric vehicle-friendly roadway. Electric Vehicles (EV) can be charged from any household outlet. However, this tends to take a while. Instead of waiting, we recommend installing a 240-volt EV charging station in Miami designed for charging electric vehicles quickly and efficiently. This will help minimize downtime and allow electric vehicle owners to stay mobile while going green.
Electric Vehicle Charger Installation in Miami
Rack Electric has been servicing South Florida for over 20 years. We are equipped with the best electricians who proudly tackle any project that we undertake. Our mission is to provide affordable and powerful electrical services to the entire South Florida area. We've experienced 24 Hurricane Seasons and are prepared to better equip homes for the next one. Whether installing a backup generator in Palm Beach or a charging station for the newest electric vehicle in Ft. Lauderdale, we're ready to get South Florida running as efficiently as possible.
Residential Standby Generator
South Florida is constantly hit with a stream of tropical storms and hurricanes. These massive storms can knock a home generator system out, causing the house to completely lose power. A portable generator can only run for around eight hours before needing to be refueled. Fuel is hard to find when a hurricane hits, and portable generators can only run two or three appliances at a time. Standby generators are a perfect safety net for when the first generator goes down. A standby generator is able to constantly power the entire house for extended periods of time. Rack Electric is able to quickly and efficiently install one, so your house is prepared for Hurricane Season.
Residential EV Charging Station
We here at Rack Electric make charging an electric vehicle at home as easy as possible. Having a charging station at home is a very cost-effective alternative to charging at public stations. We're able to install any vehicle charging system for car manufacturers such as Tesla, BMW, Ford, and a plethora of other brands. This ensures that electric vehicle owners will have a car that's fully charged and ready to hit the road every morning.
Miami Electrical Services
BEST ELECTRICIAN IN MIAMI
Rack Electric is a full-service company with the best Miami electricians. We provide an array of electrical services for residential and commercial buildings. Having a properly working electric system is crucial for any business or home. An electrical system powers a building and impacts its function. Businesses rely on financial departments as well as their online business to run on an efficient electrical system. Homes depend on an electrical system for appliances such as a refrigerator and washing machine. Rack Electric is a family owned and operated company that provides certified electricians who offer the best service for any home or business.
ELECTRICIAN SERVICES IN MIAMI
Install Lighting Fixtures
The right kind of lighting fixtures is essential for completing any room. An electrician in Miami would need to perform this job in order to provide professional work. The electrician would begin by checking the voltage with a voltage detector. This device tests the presence of electricity in a piece of equipment. Using a wire bolt cutter, the electrician can shorten screws without running the threads. Next, the individual will extend short wires with an extra wire connected stab-in which needs to be the correct size. A box extender will then be placed over the old box behind the wall surface. This is common when a layer of wood or drywall has been installed over the original ceiling. The electrician will then bend a scrap of wire to support the fixture as the device is being installed. A screw is then aligned with a thin screwdriver to hold the fixture's canopy in place.
Install and Maintain Wiring
Electrical wiring is an electrical installation of cabling and is associated with devices such as switches, distribution boards, and lighting fittings in a structure. In most modern homes a nonmetallic metal wiring is used to wire a home. The wires are wrapped inside a plastic sheathing. The proper wire size is essential to any electrical wire installation. The correct size of the wire will indicate the diameter of the metal which is based on the American Wire Gauge system. Wiring is used to run many appliances and fixtures in a household and allows systems to run efficiently. Extension cords, cooktops, light fixtures and lamp cords all use a certain type of wire Gauge and allow these devices to function properly. Our Miami electricians can help you wire your home or business.
Replacing and Upgrading An Electrical Panel
Electrical panels are important to upgrade or replace in a home. Older homes often have electrical panels that are outdated or not up to code. Panels come in various sizes measured by their amp capacities. Although this might be an expensive job, this needs to done to ensure that the house is safe. If a panel is old and made with outdated materials, it can pose a potential fire hazard. Rack Electric, the best electricians in Miami, is family owned and operated and has certified professionals to complete the job. Call Now! (561) 391-3550 to schedule a home or a business electric repair or installation for a better and more efficient system.
Rack Has Your Back
Serving All South Florida Counties