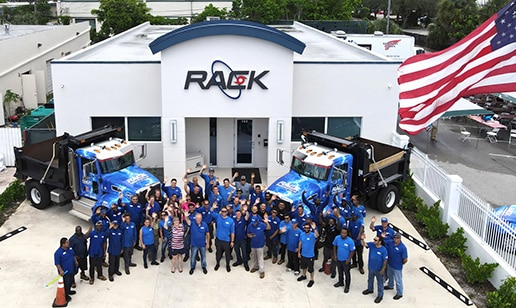 Palm Beach Generator Services
Rack Electric is proud to serve the Palm Beaches. For over twenty years we have provided the citizens of Boca Raton, Wellington, Boynton Beach, Manalapan, West Palm Beach, and more with excellent service and top of the line residential generators from Generac®.
With a vibrant history as America's First Resort Destination™ the Palm Beaches, with its near 50 miles of Atlantic coastline, is no stranger to storms. Your home is at a heightened risk of losing power due to the powerful winds and heavy rains. The state-certified electricians at Rack Electric can help your family prepare to weather this year's hurricane season, which lasts from June through November.
Palm Beach is synonymous with luxury. Visitors and residents alike enjoy the splendor of Henry Flagler's celebrated estate as well as the world-renown shopping along Worth Avenue. Palm Beach is also home to remarkable examples of Gilded Age architecture the epicurean delights of its Food and Wine Festival. Rack Electric is proud to keep the homes of Palm Beach powered during hurricane season and beyond.
Palm Beach Generators
Electrical Services For Residences
For the past twenty years Rack Electric has been providing expert electrical service to the residents of Palm Beach. Our experienced and knowledgeable certified electricians know how to prepare your home for hurricane season.
Is your property an older residence? Rack Electric can perform the maintenance necessary to ensure that your electrical systems are safe. Wiring ages over time and, without the proper upkeep, your home can experience power fluctuations. Appliances can begin to fail, and the risk of electrical fires increases. Let the professionals at Rack Electric safeguard your home's electrical systems against wear and tear.
Standby Residential Generators
Does your home use an old-fashioned gasoline generator for emergency power? It might be time to upgrade. A variety of modern standby residential generators are available from Rack Electric.
Why make the change? A standby residential generator is able to continuously power your entire residence for an extended duration. Rack Electric can easily prepare your home for hurricane season.
Palm Beach's Go-To For Residential Standby Generator Installation, Service, and Maintenance
All of South Florida – And yes, even Palm Beach – is always susceptible to a stream of tropical storms and hurricane attacks. These huge storms can knock out a portable generator's system, causing the house to completely lose power. Portable generators can only run for about eight hours before they'll need to be refueled. And during a hurricane, more often than not, finding fuel can be a mission in and of itself. Additionally, portable generators can only run two or three appliances at a time. Which appliance can you do without during and after the storm?
For over 20 years, the team at Rack Electric has been servicing the residents of Palm Beach as well as the rest of South Florida. Our expert staff is comprised of the most experienced electricians who proudly tackle any project that we undertake. We aim to provide all customers with affordable and strong residential standby generators to power your property in the darkest of times. We've experienced over 24 hurricane seasons so we know a thing or two about being prepared and equipped for the next one to come around. When it comes to installing a residential standby generator in Palm Beach, we're ready to get your home running as efficiently as possible. Standby generators are a perfect safety measure for the power at your home cuts out. A residential standby generator is able to constantly power the entire house for extended periods of time and the team at Rack Electric is able to quickly and efficiently install one, ensuring that your Palm Beach property is prepared for hurricane season and beyond.
Why Install Our Standby Generators?
Reliability
Emergency standby generators are by far way more reliable than portable ones. Other than needing an annual maintenance checkup, you can rely on your standby generator to be ready for when a blackout occurs.
Most portable generators require gasoline to be powered and because you'll need to keep gasoline on standby, you run the risk of having your gas go bad for sitting stagnantly for too long.
But standby generators don't need gas. And so, you can be at ease as your house will be powered by a reliable source.
Longer Lasting Effects
Most standby generators provide multiple hours worth of power for your property to be powered in the event that a blackout occurs. Other types of generators, especially portable ones, can only last for less than half the time than what a residential one can supply.
Less Effort
Compared to portable generators, residential standby are much more convenient in use. Portable generators require you to lug them out and connect it properly in order for you to receive the power you need when a blackout occurs. With a residential standby generator, however, you practically don't need to do anything. Your standby generator is controlled by an automatic switch that turns it on as soon as a power outage occurs. You most likely won't even notice the power go out as the standby generator turns on.
Palm Beach Electrical Services
ELECTRICIANS IN PALM BEACH
Rack Electric is a full-service Palm Beach electrician company. We provide an array of electrical services for residential and commercial buildings. Having a properly working electric system is crucial for any business or home. An electrical system powers a building and impacts its function. Businesses rely on financial departments as well as their online business to run on an efficient electrical system. Homes depend on an electrical system for appliances such as a refrigerator and washing machine. Rack Electric is a family owned and operated company that provides certified electricians who offer the best service for any home or business.
PALM BEACH ELECTRICIAN SERVICES
Install Lighting Fixtures
The right kind of lighting fixtures is essential for completing any room. An electrician in Palm Beach would need to perform this job in order to provide professional work. The electrician would begin by checking the voltage with a voltage detector. This device tests the presence of electricity in a piece of equipment. Using a wire bolt cutter, the electrician can shorten screws without running the threads. Next, the individual will extend short wires with an extra wire connected stab-in which needs to be the correct size. A box extender will then be placed over the old box behind the wall surface. This is common when a layer of wood or drywall has been installed over the original ceiling. The electrician will then bend a scrap of wire to support the fixture as the device is being installed. A screw is then aligned with a thin screwdriver to hold the fixture's canopy in place.
Install and Maintain Wiring
Electrical wiring is an electrical installation of cabling and is associated with devices such as switches, distribution boards, and lighting fittings in a structure. In most modern homes, metal wiring is used to wire a home. The wires are wrapped inside a plastic sheathing. The proper wire size is essential to any electrical wire installation. The correct size of the wire will indicate the diameter of the metal which is based on the American Wire Gauge system. Wiring is used to run many appliances and fixtures in a household and allows systems to run efficiently. Extension cords, cooktops, light fixtures, and lamp cords all use a certain type of wire Gauge and allow these devices to function properly. Our Palm Beach electricians can help you wire your home or business.
Replacing and Upgrading An Electrical Panel
Electrical panels are important to upgrade or replace in a home. Older homes often have electrical panels that are outdated or not up to code. Panels come in various sizes measured by their amp capacities. Although this might be an expensive job, this needs to done to ensure that the house is safe. If a panel is old and made with outdated materials, it can pose a potential fire hazard.
Palm Beach Propane Tank Install
PALM BEACH UNDERGROUND PROPANE TANK INSTALLATION
When you have a standby generator installed on your property, you can gain many benefits from its service. With the occurrence of a power outage, your standby generator will turn on and give you the power and energy you need during moments of darkness. However, to ensure that your new generator is given the power it needs, it'll need a fuel source. And when you need to fuel it properly, feel free to hire the professionals over at Rack Electric about their underground propane tank installation in Palm Beach. If you're interested in learning more about what our services can do for you as well as what's basically required for underground propane tank installation in Palm Beach, then continue reading below.
Rack Electric's Palm Beach Underground Tank Installation Services
Our company's team of industry professionals are deeply passionate about their work and more than devoted to giving Floridians the power they need when the lights go out. Because Florida is highly susceptible to strong and powerful storms during hurricane season, power outages are very likely to occur. And during times when power outages take place, if you're not prepared properly, you'll be living in complete and total darkness as you try to carry out your daily routines. But when you hire us, we can provide you with one of our quality generators to make sure that your property is lit when darkness occurs. Additionally, we can also give you our Palm Beach underground propane tank installation services to make sure that your new generator is able to run whenever an outage occurs.
Our company's staff is very experienced and knowledgeable. But other than that, our staff is also deeply versed in the rules and regulations surrounding underground tank installation. You can best believe that with their professional assistance, the underground tank installation process will go smoothly and with no issues at all.
Rules & Regulations Surrounding Underground Tank Installation in Palm Beach
The laws that surround underground propane tank installation in Palm Beach are multifaceted and complex, so much so that there would be too much content to include on this page. We can, however, give you a simple guideline that indicates the required size for a proper ditch to fit an underground tank.
There are basically two sizes that most Florida residents go for in terms of underground propane tanks. They include 120 gallon and 250 gallon tanks.
If you are interested in having a 120 gallon tank installed on your property, the requirements that need to be fulfilled including having a ditch that's 30 inches deep, 30 inches wide, and 6 feet long. If you have a larger property (typically a commercial property) you may instead want a 250 gallon tank, to which you will need space that's adequate enough to dig a hole that's 4 feet deep, 4 feet wide, and 8 feet long.
When you decide to include a standby generator on your property, you should always ensure that you have more than enough space on your grounds for an underground tank. If you're not entirely sure if the space on your property is enough, don't hesitate to contact Rack Electric for our professional opinion. Our employees will be able to indicate if you have the proper amount of space for an underground propane tank installation in Palm Beach.
Palm Beach Under Paver Propane Tank Installation
When you're evaluating your grounds in search of possible locations to have your new underground propane tank installed, make sure to inspect areas where there are also pavers. While it might not seem doable, you'll be surprised to find that there are countless businesses that are versatile when it comes to tank installation. Especially Rack Electric where we can give you the greatest under paver propane tank installation in Palm Beach.
Here at Rack Electric, we completely understand just how much residents value their properties because of their appeal. Due to his, our Palm Beach under paver propane tank installation services will make sure that when your new tank is buried under pavers, there'll be no issues at all. And once the tank is installed, remodeling the pavers back into place will be of no issue at all. In fact, it will seem as if no changes were made whatsoever once we're finished.
Why Choose Rack Electric For Their Palm Beach Underground Tank Installation
We here at Rack Electric are mindful of just how common it can be for Florida properties to lose power in the event of a storm. With hurricane season being a reoccurring issue, we find that generators are a necessity for countless property owners. But you as a property owner shouldn't only hire any sort of service provider for generator and underground propane tank installation. You should also ensure that you can hire a business that's experienced, equipped, and knowledgeable about the rules and regulations regarding both generators and underground tank installation. And this is where Rack Electric comes into play.
Don't be like the many other Floridians living in the dark when you can have power supplied to you at your leisure. So when you call us for our generators, feel free to inquire about our Palm Beach underground propane tank installation services. Our methods are efficient and effective when it comes to installing underground propane tanks. So you can trust that once we've finished, your new generator will be ready to perform in the darkest of times while powered by an underground tank.