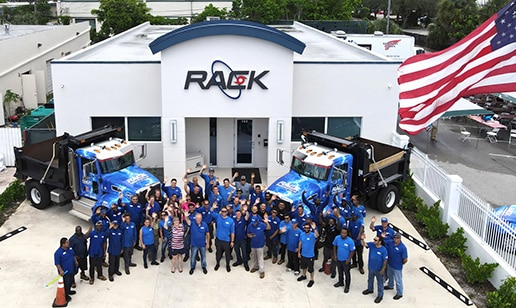 Parkland, FL Generators
Are you looking for help with your generator in Parkland, FL? The licensed electricians and pros at Rack Electric can help. We offer residential and commercial services with a variety of Parkland generator services. We handle small to complicated issues, including repairs, installations, and maintenance. Our team can also assist with all of your gas, electricity, solar power, and EV charging needs. Get in touch with our team of prompt, reliable Parkland generator experts right away!
Why Choose Rack
Teamwork

We're the electrical and generator industry leader for a reason. At Rack, we encourage each of our team members to work together to solve every single challenge we face.

Quality

We won't just meet your expectations; we'll exceed them. We believe in quality over quantity. We will prove ourselves to you through the success and the quality of your project.

Turnkey

We offer complete turnkey systems. All of our installations are ready to go after we complete our work. We never walk away until the job is 100% finished and you're 100% satisfied.
Our Parkland Generator Services
Book Online
Book Online
Parkland Emergency Generator Services
We know emergencies can't wait and are rarely something you can plan for. If your generator in Parkland  goes out, call us right away; a generator or electrical emergency can't wait. Give Rack Electric a call if your generator in Parkland isn't working and a tropical storm or hurricane is on the way. We'll do everything we can to ensure your electricity stays on with the help of your generator.
Parkland Generator Repair
Call the team at Rack Electric right away if your home or business generator in Parkland isn't working properly. Our team of professionals will come out to take a look as soon as possible to identify the problem, find a solution, and work to resolve the problem so you're ready to go, no matter the weather.
Parkland Generator Maintenance
Our generator maintenance in Parkland services can help you stay cool in the summer and warm in the winter. Ongoing maintenance ensures your generator works reliably, just the way it's supposed to and whenever you need it. From checking over your unit to testing it, we'll make sure everything is in good working order. Regular generator maintenance can also help extend the lifespan of your unit so you're not replacing it prematurely.
Parkland Generator Monitoring
The team at Rack Electric can set up your Parkland generator so you can continue to monitor it remotely, even when you're away from home. It can also help you keep track of issues with your electricity and how often it goes out. While the rest of the neighborhood is dark, your home will enjoy a well-working generator to keep everything powered up and ready to go.
Parkland Generator Installation
Get ahead of inclement weather by calling our Parkland generator experts today. We'll make sure your home has the backup electricity source you need to offer the protection you and your family deserve. We offer reliable generator installation in Parkland for a seamless, done-for-you experience. Whether you need your existing generator replaced or don't have one at all, we can help! Our goal is to offer customer service you can depend on to get you a reliable generator that withstands the weather.
Parkland Gas Services
Whether your Parkland generator runs on liquid propane or natural gas, the Rack Electric team can assist you. We'll take a look at what your home needs, your fuel type, and even bury your tanks to protect them and keep them out of sight so you continue to have a reliable, ongoing source of energy.
The team at Rack Electric will also assess how much power you have left and what kind of condition your tank is in. We'll continue to maintain and service your tanks and generator for your continued peace of mind. Contact us today to discuss all of your gas service needs!
Parkland Electrical Services
Rack Electric offers Parkland electrical and generator services for both residences and businesses. Our qualified Parkland electricians is here whenever you need,including:
Electrical repairs & installations
Safety inspections
Electrical panels & circuit breakers
Wiring & rewiring
Lighting
Security systems
AV systems
CO2 & smoke detectors
And more!
Book Online
Book Online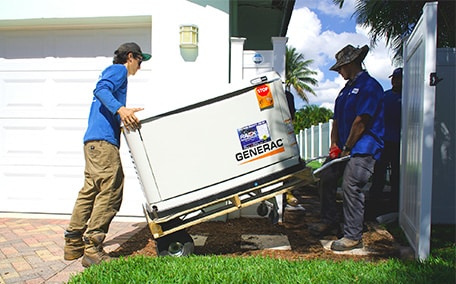 Why Call Rack for Generator Services in Parkland
Are you in search of generator services in Parkland, FL or a nearby area? The skilled electricians at Rack Electric are at your service in offering generator servicing, repairs, and installations. Proudly serving your community, we have earned a reputation for:
Offer upfront pricing, financing options & guarantees
Are family-owned and operated
Use industry-leading equipment & technology
Are a premier Generac dealer & a state-certified contractor
Are available 24/7 for emergencies
Offer turn-key, ready-to-go services
Have your back, no matter what
Parkland Solar Services
When you're ready to make the switch to solar services in Parkland, we can help. The team at Rack Electric is skilled at solar panel installation throughout the area. We'll assess your needs and go through your options to figure out what works best for your home. We can also help you figure out how solar can impact your energy consumption and bills. To potentially save even more money, we'll also let you know about any ongoing incentives and tax rebates for your solar panels in Parkland.
EV Charging Stations in Parkland
Are you running a business or have several drivers at home with an electric car? Rack Electric can install your Parkland EV charging stations safely and legally. Only knowledgeable Parkland electricians should handle the installation of Level 2 and Level 3 EV charging stations. After gathering your feedback and going over your requirements, we'll get to work installing your system and testing everything out before we go.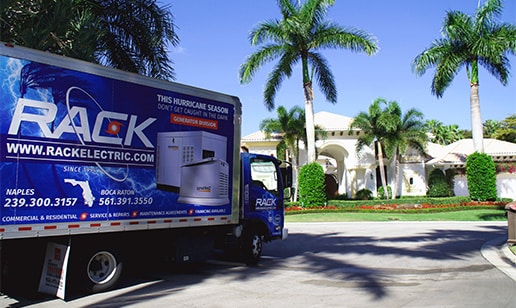 Get Generator Support & Electrical in Parkland Right Away
You and your family deserve the peace of mind that a generator in Parkland offers. They're a vital resource during hurricane season or to keep your home safe from a power outage, no matter the weather. The electricians at Rack Electric are here to handle all of your generator and electrical needs to keep your Parkland, FL, home or business working as efficiently as possible. Give us a call or schedule your next appointment!
Book Online
Book Online