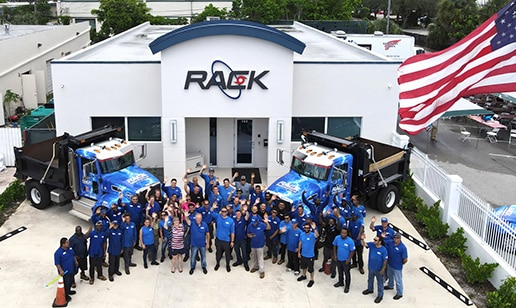 Delray Beach Generator Services
For over twenty years the state-certified professionals of Rack Electric have kept the homes of Delray Beach alight with top-of-the-line standby generators.
The historic town of Delray Beach, founded in 1846, is currently hometown to over 70,000 residents. From the shimmering waters of the Atlantic Ocean to the mouth-watering cuisine of Atlantic Avenue, Delray Beach has something for everyone. It's no wonder why Rand McNally® and USA TODAY® once named Delray Beach as the Most Fun Small Town in America.
It's been our privilege to be part of this thriving community for the past twenty-four hurricane seasons. Let the experience and expertise of Rack Electric prepare your home this year's hurricane season with either a new installation of a standby generator or an upgrade from an existing old-fashioned portable generator. Rack Electric is the premier provider of Delray Beach generators.
Rack Electric is proud to offer the citizens of Florida's Village by the Sea the best selection of Generac® residential standby generators available on the market.
Delray Beach Generators
RESIDENTIAL STANDBY GENERATORS
It's time to make a change from your old-fashioned gas-powered generator. Choose from a selection of contemporary residential standby generators from Rack Electric. Don't be in the dark this hurricane season or the next. A standby residential generator is able to provide your home with continuous power for an extended span of time. Rack Electric can easily equip your residence to weather the storm. If you're looking for Delray Beach generators, look no further than Rack Electric.
Delray Beach EV Charging
ELECTRIC VEHICLE CHARGING STATIONS IN DELRAY BEACH
With the increased popularity of electric vehicles on the road today, more charging stations have been popping up. And even though your electrical vehicle is already able to charge with a normal electrical outlet, it can still take a long time for it to fully recharge. Here at Rack Electric, we have installed countless electric vehicle charging systems in Delray Beach, ensuring that the process of charging is decreased by more than half the time. Our company is certified to help equip homes in Delray Beach with these systems so that your vehicle is able to hit the road as soon as possible. When we go to work to install your EV charger in Delray Beach, we feel more than confident that you'll be satisfied with the results of our work.
In past years, electric vehicles have become much more prominent in transportation, and this is mostly because of the rise in gas prices. Even though electric charging has proven to be much less costly, it still has struggled to become as convenient as gas-fueled vehicles. Over the past years, charging stations in Delray Beach have created a more electric vehicle-friendly environment. But don't waste your time driving out just to recharge your car. We recommend a 240-volt EV charger station in Delray Beach that's created for charging electric vehicles quickly and efficiently. This will help minimize downtime and allow electric vehicle owners to stay mobile while going green.
DELRAY BEACH ELECTRIC VEHICLE CHARGING STATIONS
Mobile Connectors and Adapters
There's a wide assortment of different equipment available to drivers so that they can stay charged while on the road. With a 20-foot extension cord, you can easily charge your EV nearly anywhere with a charging station in Delray Beach. And with an adapter, you can give your EV the chance to charge anywhere at any time. NEMA 5-15 adapters allow for the usual 110-volt outlet to be used while the NEMA 14-50 permits vehicles to hook up to the larger 240-volt outlets. Most often, an EV will charge 29 miles of range per hour, but you can easily increase this with wall connectors. Wall connectors can offer about 52 miles of range per hour of charging.
Residential Charging
When you have a residential EV charging station in Delray Beach, you can utilize the most cost-effective and convenient method of charging an EV. And while most homes aren't constructed with a charging station installed, Rack Electric can provide their EV vehicle charger installation in Delray Beach. It often takes about 4 hours to fully charge the battery in a 240-volt outlet.. When you have an at-home charging station, homeowners are able to charge their EV as they sleep or perform errands. Additionally, your EV will be fully charged and you won't have to stop in the middle of a commute. An EV charger station in Delray Beach can be installed in your garage or in a carport and it will cost less than using a public charging station. Charging stations use less power than an air conditioning unit and aren't needed as often.
Commercial Charging
When you have a Delray Beach EV charger station, commercial property owners are often able to make a good investment. An EV charger station installed on a Delray Beach commercial property can potentially raise the value of that property significantly. The eco-friendly building industry continues to strive, which has convinced building owners to include more energy saving options. Plus, when you have a Delray Beach EV charger station, you can easily add more flexibility by cutting costs on constant refueling. Regardless if it's a home or business that needs an EV charger installation in Delray Beach, Rack Electric has the tools necessary to install an EV charging station.
Benefits of Having an EV Charger in Delray Beach
Over the many years of their existence, electric vehicles have shown their worth as environmentally-conscious substitutes to gas-powered transportation. When you have a Delray Beach EV charger, EV owners will be able to travel far distances as they usually would be able to with any other transport. Yet, they're still able to save money.
However, one disadvantage with an EV is that there are often very few public EV charging stations in Delray Beach nearby. But if you happen to have an EV and need a convenient solution to charging, you'll be more than happy to know that our installation service can provide you with a few benefits.
Convenience
What is most often the best advantage of having an electronic vehicle charger station in Delray Beach is the convenience it provides to EV owners. And even if you're already lucky enough to have a public EV charging station nearby, you'll still need to travel a distance in order to just charge your EV. As a result, this can sometimes impede on your daily activities. When you have your own Delray Beach EV charger installed, you can save yourself the drive and time as you plug your EV on your own property. In summary, you don't have to waste any more of your own time and energy just to make that your EV is fully charged.
Cost-Effective
If you're lucky, your current EV already came with a plug that you can simply just plug into your home. By doing this, you'll be able to easily charge your vehicle. But just know that these plug types (often level 1 plugs) will drain quite a bit of your home's electricity over a certain period of time due to their slowness. As a result, you will likely have to pay more for electricity as your EV will demand it in order for it to function properly.
Rack Electric's charger installation service in Delray Beach will help you to never worry about this issue anymore. Our Delray Beach charger stations are designed to quickly recharge your vehicles so that not only can you drive soon again, but that high-cost electricity is no longer a problem.
Speedier Recharge
By relying on standard plugs that are usually included with most EVs, it can take a bit of time before your vehicle is fully recharged. This can often be a huge inconvenience for most Delray Beach EV owners, especially when they're on a time crunch. By having a Delray Beach EV charger station, you can reduce charging in roughly half the time it would take with a standard plug.
Delray Beach Electrical Services
ELECTRICIAL CONTRACTOR SERVICES & STATE-CERTIFIED, LICENSED ELECTRICIANS SERVING DELRAY BEACH
If you're looking for the best in electrical contracting services and the best electricians in Delray Beach, then you need Rack Electric. We provide a wide array of electrical contracting services for residential properties, as well as commercial and industrial buildings.
Having a properly working electric system is crucial for any business or home. An electrical system powers a building and impacts its function. Companies rely on business-critical departments as well as their online business presence to run on an efficient electrical system. Homes depend on an electrical system for appliances such as a refrigerator and washing machine, or for medical devices needed to aid family members with an illness.
Rack Electric is a family-owned and operated company that provides state-certified, licensed electricians who have the training and experience to handle electrical contracting services for any Delray Beach home or business.
CUSTOMER-VOTED AS "THE BEST ELECTRICIANS IN DELRAY BEACH"
Lighting Fixture Installation
The right kind of lighting fixtures is essential for completing any room. An electrician servicing Delray Beach would need to perform this job in order to provide professional work. The electrician would begin by checking the voltage with a voltage detector. This device tests the presence of electricity in a piece of equipment. Using a wire bolt cutter, the electrician can shorten screws without running the threads. Next, the individual will extend short wires with an extra wire connected stab-in which needs to be the correct size. A box extender will then be placed over the old box behind the wall surface. This is common when a layer of wood or drywall has been installed over the original ceiling. The electrician will then bend a scrap of wire to support the fixture as the device is being installed. A screw is then aligned with a thin screwdriver to hold the fixture's canopy in place.
Wiring Installation and Maintenance
Electrical wiring is an electrical installation of cabling and is associated with devices such as switches, distribution boards, and lighting fittings in a structure. In most modern homes a non-metallic metal wiring is used to electrify a home. The wires are wrapped inside a plastic sheathing, making the wires shielded. The proper wire size is essential to any electrical wire installation. The correct size of the wire will indicate the diameter of the metal which is based on the American Wire Gauge system. Wiring is used to run many appliances and fixtures in a household and allows systems to run efficiently. Extension cords, cooktops, light fixtures, and lamp cords all use a certain type of wire Gauge and allow these devices to function properly. Our experienced Delray Beach electricians can help you wire your home or business.
Electrical Panel Replacements and Upgrades
Electrical panels are important to upgrade or replace in a home. Older homes often have electrical panels that are outdated or not up to code. Panels come in various sizes measured by their amp capacities. Although this might be an expensive job, this needs to done to ensure that the house is safe. If a panel is old and made with outdated materials, it can pose a potential fire hazard.
Delray Beach Propane Tank Install
DELRAY BEACH UNDERGROUND PROPANE TANK INSTALLATION
When you have a standby generator installed into your home, you'll be provided with many benefits. When the power goes out in your home, your standby generator will simply turn on and provide you with the energy you require during times of darkness. In order to power that new generator of yours, however, it will need to be fueled properly and accordingly. And when you need to fuel it accordingly, don't hesitate at all in contacting Rack Electric about their underground propane tank installation in Delray Beach. To learn more about what our services can do for you as well as what's generally required for underground propane tank installation in Delray Beach, continue reading below.
Rack Electric's Delray Beach Underground Tank Installation Services
Here at Rack Electric, we are deeply passionate about providing Floridians with the power they need whenever lights go out. Considering Florida is highly vulnerable to powerful storms during hurricane season, power outages are very likely to occur. And in the event of a power outage, if you're not prepared properly, you can live in complete darkness as you try to carry out your typical daily routines. But by hiring us, we can give you one of our quality generators to make sure that your property is lit when darkness occurs. Moreover, we can also provide you with our Delray Beach underground propane tank installation services to ensure that your new generator is able to run whenever an outage takes place.
The Team of Rack Electric is composed of some of the most experienced industry experts in all of South Florida. But other than experience, our team is also well-versed and deeply knowledgeable about the rules and regulations required for underground tank installation. You can best believe that with their expert help, the underground tank installation process will go smoothly and with no errors whatsoever.
Rules & Regulations Surrounding Underground Tank Installation in Delray Beach
Laws surrounding underground propane tank installation in Delray Beach are so multi-faceted that there would simply be too much to mention on this page. However, we can provide you with a simple guideline that coincides with the size of your tank for underground installation.
There are generally two sizes that most Florida residents go for in terms of underground propane tanks. They include 120 gallon and 250 gallon tanks.
If you're interested in having a 120 gallon tank installed on your property, the requirements that need to be fulfilled include having a ditch that's 30 inches deep, 30 inches wide, and 6 feet long. If you have a larger property (typically a commercial property) you may instead want a 250 gallon tank, to which you will need space that's adequate enough to dig a hole that's 4 feet deep, 4 feet wide, and 8 feet long.
Before even deciding to have a standby generator installed, you should inspect your grounds to see where it can possibly be installed. Moreover, you should also make sure that you have enough substantial space for an underground propane tank. If you have any issues finding such areas or you're not entirely sure if the space you're considering is adequate enough, don't hesitate whatsoever in contacting Rack Electric for their professional opinion. Our team will be able to tell you if you have the right space for underground propane tank installation in Delray Beach.
Delray Beach Under Paver Propane Tank Installation
Whenever you're inspecting your grounds to search for an optimal location to have your underground propane tank installed, inspect areas where there are also pavers. While it may not seem doable, you'll be surprised to find that there are many businesses that are versatile when it comes to tank installation, especially Rack Electric where we can provide you with the best under paver propane tank installation in Delray Beach.
We completely understand just how much your property means to you and how much you care for its appeal. For this reason, our Delray Beach under paver propane tank installation services will make sure that that your new tank is buried under pavers with no issues whatsoever. Once pavers are removed and the tank is installed, remodeling the pavers back into place will be of no problem at all. In fact, it will seem as if no changes were made whatsoever once we're finished.
Why Choose Rack Electric For Their Delray Beach Underground Tank Installation
Here at Rack Electric, we acknowledge just how common it can be for Florida properties to lose power in the event of a storm. With hurricane season being a common problem, we find that generators almost an absolute must for many property owners. But property shouldn't just hire any service providers for generators. You should always make sure that you hire a business that's well-experienced, equipped, and deeply knowledgeable about rules and regulations regarding both generators and underground tank installation. And this is where Rack Electric comes into play.
There's no reason for you to live in the dark when you can have power supplied to you at your leisure. So when you call us for our generators don't hesitate at all to ask us about our Delray Beach underground propane tank installation services. We are quick and efficient when it comes to installing underground tanks. So you can best believe that when we're finished, your new generator will be ready to perform in the darkest of times while it's powered by your underground tank.