Gas Services Miami, FL
Rack Electric is here to make sure you have the power you need in Miami and the surrounding area. We're also focused on making sure your energy source is efficient and reliable. Our team makes every effort to install a natural gas line or an underground propane tank so your standby generator stays fueled year-round. We can also monitor the levels to ensure you have the fuel source you need. Call our team today and we'll get to work safeguarding your home and your family.
Why Choose Rack
Teamwork

We're the electrical and generator industry leader for a reason. At Rack, we encourage each of our team members to work together to solve every single challenge we face.

Quality

We won't just meet your expectations; we'll exceed them. We believe in quality over quantity. We will prove ourselves to you through the success and the quality of your project.

Turnkey

We offer complete turnkey systems. All of our installations are ready to go after we complete our work. We never walk away until the job is 100% finished and you're 100% satisfied.
Our South Florida Gas Services
Book Online
Book Online
Miami Gas Installation
Getting an underground propane tank in Florida can be tricky because there are a lot of rule and regulations in place. We'll talk about these stipulations with you, how we work within them and apply them, and make sure your tank is set up properly and safely.
In Florida, people usually have 500 or 1000-gallon underground tanks. Regardless of the size you choose, we'll make sure the installation is done right so your tank lasts a long time.
Call us today to get the right gas solution for your home in Miami!
Miami Underground Tanks - Liquid Propane Tank Installation
Liquid propane tanks come with regulations and require a specific hole size. Our experts stay up to date on the latest laws and make sure to comply with ditches that are 4 feet deep, 4 feet wide, and 6 feet long (4x4x6) for a 250-gallon tank. These tanks must also be 4x4x10 for a 500-gallon tank and 5x6x18 for a 1,000-gallon tank.
Depending on your needs, our team often builds these tanks ourselves. We understand all of the nuances, needs, and more. Regardless of the tank size, we make sure to follow the laws and best practices for installation location and secure the oil you need. We know that all of these specifications and terms can feel overwhelming. That's why we take care of everything, including tank installation and building services before restoring order to your property when we're done.
Miami Natural Gas Line Installation
Depending on your needs and property, we can install a generator set you up to run your existing generator on natural gas. We're focused on keeping your natural gas powered continuously for a cost-effective, efficient option.
The team at Rack Electric can also help you decide between a natural gas connection and an underground propane tank. We'll look at your property, location, and explain the advantages and disadvantages of both and install whichever option you prefer.
Miami Gas Tank Maintenance
Rack Electric will also maintain the upkeep of your underground tank and ensure you have the fuel you need. We've got it covered! We'll test, refill, and take care of any maintenance on your tanks so your generator works reliably every time you need it.
The good news is we don't need to dig up your tank to replenish it We'll make sure the process is simple so we can quickly deliver the gas you need!
Miami Tank Utility Monitoring
Many of our clients are concerned about if they'll know if their underground tank is almost empty. Not to worry! We created a convenient Miami Tank Monitoring System that allows you to:
Avoid running out of fuel
Get alerts when your tank is low
Monitor your tank even when you're not close to home
Always see your tank's fuel level on your iPhone or Android
Save energy
Save money
When the team at Rack Electric installs your tank and assists you in setting everything up, we'll talk about ongoing service and how we can best help you.
Trust Us For Your Miami Gas Needs
The team at Rack Electric is are industry specialists to make sure our Miami community always has access to the power and energy they need to keep their home up and running.
When you live in Florida, you already know that hurricanes result in significant, prolonged power outages. The results can lead to medicine going bad in the fridge, mildew and mold growing in your home, and living in discomfort and disarray. If you're not prepared, you could find yourself without power for days or weeks and experience a total disruption in your life.
Working with Rack Electric means your standby generator has continuous power. We provide a natural gas hookup or an underground propane tank for quick, easy access to fuel that keeps your generator on. We can also install a propane tank that sits above ground, but it does require a lot of space. For example, a standby generator installed on a paver stone is required for a 120-gallon liquid propane tank, which is 31 inches in diameter and 4.5 feet tall.
We'll also make sure your generator and fuel abides by all laws and ordinances so it provides a worry-free experience whenever you need it.
Call Rack Electric today for our Miami Gas Services and get peace of mind that you and your family has the fuel and power you need, no matter what weather comes your way!
Book Online
Book Online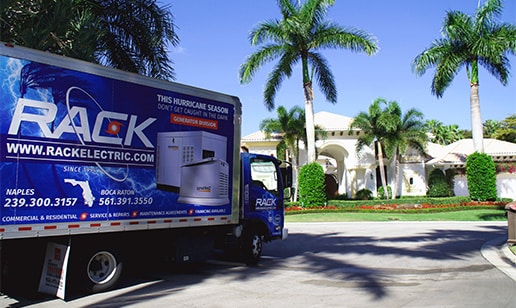 Why Choose Us for Your Miami Gas Line Services
Rack Electric is proud to be your go-to gas line service experts and to have built a reputation for our:
Offer upfront pricing, financing options & guarantees
Are family-owned and operated
Use industry-leading equipment & technology
Provide the tank, lines, regulators, gas check and permitting for your installation
Are available 24/7 for emergencies
Have a commitment to customer satisfaction; we have your back, no matter what!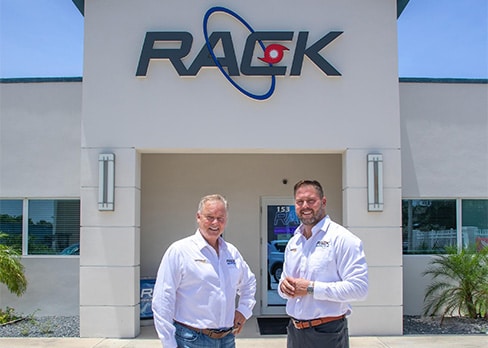 Get Reliable Gas Line Services in Miami
If you don't already have an underground propane tank or standby generator in Miami call us right away! The team at Rack Electric will quickly assess your needs and find a solution that works for your home and budget. Contact us right away to get started!
Book Online
Book Online