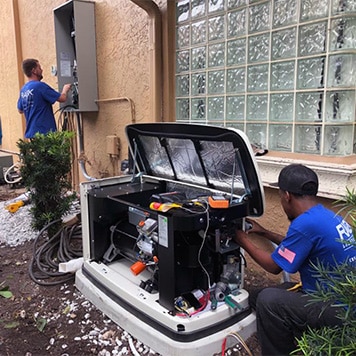 Generator Installation Miami, FL
Miami's sunny weather is a draw for newcomers and tourists alike, but our long-time residents know that hurricane season comes with stress and discomfort. Instead of just stocking up on food and supplies, you also need a reliable generator to keep your lights on, home cool, and family safe.
Generator installation in Miami is a small investment in your peace of mind and well-being. You'll be back to your normal routine in no time while everyone else is struggling with lack of power. Stay prepared with a Miami generator today!
Why Choose Rack
Teamwork

We're the electrical and generator industry leader for a reason. At Rack, we encourage each of our team members to work together to solve every single challenge we face.

Quality

We won't just meet your expectations; we'll exceed them. We believe in quality over quantity. We will prove ourselves to you through the success and the quality of your project.

Turnkey

We offer complete turnkey systems. All of our installations are ready to go after we complete our work. We never walk away until the job is 100% finished and you're 100% satisfied.
Our South Florida Generator Services
Book Online
Book Online
Get Ready for Hurricane Season With a Generator Installation in Miami, FL
Are you getting prepared for hurricane season with food, batteries, and supplies? Don't forget your back-up generator! You need a reliable, well-working generator to keep mold from forming in your home in the Florida humidity, keep your medical running equipment, and stay comfortable and safe.
Our Process for Standby Generator Installation in Miami
The installation team at Rack Electric is here to help! We arrive at your home or building and assess your needs and offer upfront, fair pricing you can trust. Our state-certified and qualified electricians will get to work so you have everything you need to keep your electricity on during an emergency.
Rack Electric installs your generator, runs  diagnostic testing, and obtains any required licenses. Our team is also focused on getting the job right the first time, no matter how long it takes. Unlike other companies, we don't rush through the process to move on and make a profit and instead focus on you and your family's welfare.
The Benefits of Installing a Standby Generator In Miami
Ready for a standby generator in Miami? Here's what to expect from Rack Electric:
Complete turnkey systems utilizing load management
Maximize specific power needs
Help you obtain affordable financing
Ability to automatically turn on the moment a power outage is sensed
Eliminate the hassle of old portable generator
Utilize the exterior of your home, reducing the risk of carbon monoxide
LP Gas & NG Services — we provide the tank, lines, regulators, gas check, and permitting for your installation
Peace of mind at your home or business
Choose a Standby Generator Over a Portable Generator In Miami
A portable are less expensive than a standby generator and can help with a brief emergency. However, a standby generator is referred to as a "whole-house generators" and keep your power on as you would normally enjoy it.
Cons of Portable Generators
Portable generators can consume around 12 to 20 gallons of gasoline daily. It quickly wipes out any cost savings you enjoyed when you first purchased it. Some portable generators also run on liquid propane, diesel fuel, or natural gas.
Portable generators are noisy and also require more work on your part. You need to manually remove it from storage, connect it to your home's circuit breakers, and get everything set up during an outage. They also keep your fridge or small appliances on, but not much else.
Pros of Standby Generators
You can power up your entire house, and not just an appliance, with a standby generator. Once it's installed by our team of experts, your backup generator will also start up automatically and turn off when your power is restored. You never have to worry about what to do during a blackout, it just works the way it's supposed to without needing to do anything. Make sure to schedule regular service with Rack Electric to ensure your backup generator stays in good working order.
Take Your Stress Away With Generator Installation in Miami
The experts at Rack Electric offer standby generator in Miami installations to protect your home, family, and peace of mind. You'll never have to worry about baking in the heat or trying to ration your gasoline to keep a portable generator running. If there's no power coming into your home, our automatic backup generators will turn on as soon as it notices there is no power coming into the house and turn itself off when your electricity is restored.
Your home can for up to 3,000 hours (or 125 nonstop days) with the help of a standby generator installed by the state-certified, professional electricians at Rack Electric. Your home will still illuminated, cool, and comfortable while the rest of the neighborhood sits in darkness for the electricity to come back on. You'll sleep better, keep mold and mildew at bay, and protect any medications or equipment you need for your health and well-being.
Book Online
Book Online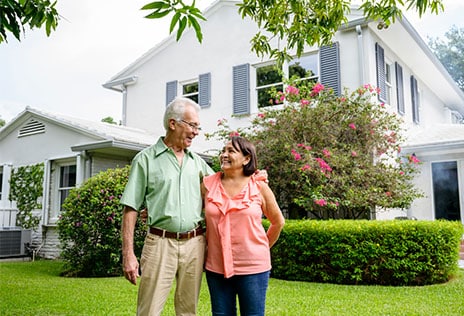 Why Choose Us for Your Miami Generator Installation
At Rack Electric, we are proud to be your go-to Miami generator installation experts. People love us because we:
Offer upfront pricing, financing options & guarantees
Are family-owned and operated
Use industry-leading equipment & technology
Are a premier Generac dealer & a state-certified contractor
Are available 24/7 for emergencies
Offer turn-key, ready-to-go services
Have your back, no matter what!
Miami Generator Installation FAQ
Miami Generator Installation FAQ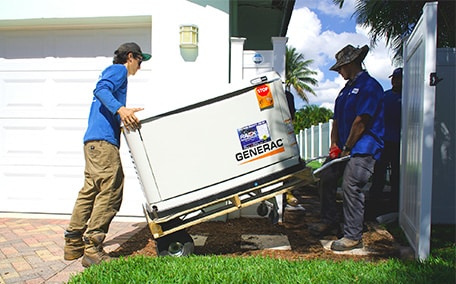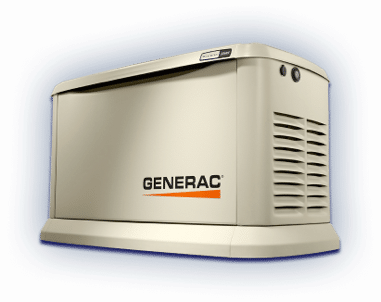 Call Us Today for Miami Generator Installation
A reliable generator helps your home stay up and running in an emergency. Whether a hurricane heats or routine utility work knocks out your electricity, we can help. Our Miami generator services keeps your home safe and secure with all the comforts you need, when you need them.
Ready to protect your home and family with the best Miami generator installation? Contact Rack Electric! Our team of experienced generator experts will get you up and running quickly to stay safe and comfortable during an emergency. Call us now!
Book Online
Book Online